As older players being to fade, youngsters must be ready to emerge. It's the circle of life in the NFL. With that in mind, we went looking for some young defensive players who seem poised to step up.
Thanks in large part to last year's impressive rookie class, a number of players could have made this list. But we settled on five guys on the cusp of becoming perennial Pro Bowl defenders.
One player who truly deserves a spot on this list for his play is Adam "Pac-Man" Jones. With the exception of
Champ Bailey
, who is in a class by himself, Jones is as good a cover corner as there is the league, and is just scratching the surface of his abilities. He also plays the game with a nasty edge.
Jones is extremely fast and explosive out of his breaks. He is very fluid in transition and has exceptional ball skills. Once he gets his hands on the ball, few defensive players in the league can compete with his run-after-catch ability. He is a superb return man, but an even better cornerback. Given his tenuous status due to his off-the-field issues, we left him off this list. I wouldn't necessarily want Jones on my team, but I certainly wouldn't want to play against him, either.
Players such as
Haloti Ngata
,
Kerry Rhodes
and many others also could have made this list, but these five have distinguished themselves:
LB Bart Scott, Baltimore Ravens
Scott is surrounded by a fantastic group of defensive players, but he brings great qualities to the unit. Scott can do it all. He is already a very good pass rusher and will only improve with time. He is also an excellent run stuffer who is quick to fill, aggressive in pursuit and nasty when he arrives.
In coverage, he has the athleticism and speed to run with just about any tight end or running back in the league. He has smooth hips and is sudden to close. Scott gets deep drops into his zones and excels in space. He is very explosive in all areas of his game, and is a punishing finisher who generates turnovers.
He is one of the rare linebackers in this league who can play and excel at just about any linebacker position in any defense. There will be a lot of Pro Bowl trips in his future.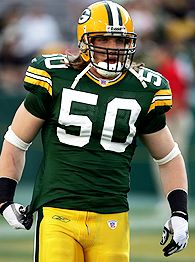 Jonathan Daniel/Getty Images
A.J. Hawk has a chance to emerge as difference maker in Green Bay.
LB A.J. Hawk, Green Bay Packers
Hawk is also an extremely versatile linebacker. He is a shade behind Scott in his development. He does not have the same talent around him in Green Bay, but Hawk is going to a very good linebacker in this league for a long time. He is incredible fast and, maybe more impressively for a rookie linebacker, takes very few false steps. He also takes good angles to the ball carrier and reads plays very quickly.
Hawk had some growing pains in his rookie year, but got better each week and became a real playmaker by the end of the season. He is a good blitzer, a force against the run and has fantastic ball skills for a linebacker. Hawk is going to cause a lot of turnovers throughout his career and has already become a difference maker for the Packers. In a bigger media market, Hawk's play would have been more noticed.
DE Luis Castillo, San Diego Chargers
Defensive ends often go unnoticed in a 3-4 scheme, but Castillo has quickly emerged as one of the very best in the business. Teams that run this scheme will often fill this position with cheap, veteran linemen who are tough, but limited athletes.
Castillo is a fantastic athlete for his size (290 pounds). He is quick off the ball, and can penetrate or lock out an offensive tackle. He is the type of player who makes everyone around him a better and more productive football player. Castillo may never get the acclaim he deserves, but is already one of the top players in the league at his position.
LB DeMarcus Ware, Dallas Cowboys
Ware is a difference maker who is just beginning to realize his full potential. He entered the league in the same draft as
Shawne Merriman
and also plays outside linebacker in a 3-4 defense. This could be one of the reasons why Ware doesn't get his due. He is already a great player, but the sky is the limit for this young player out of Troy State. Even coming from a very small program, Ware was quick to assert himself as a dangerous edge pass rusher.
The rest of his linebacking skills are coming along well, but his edge rush ability is what puts him on this list. He explodes off the snap, gets his hands on his blocker very quickly and eats up space with long fluid strides. He uses his long arms very well, and is athletic enough to bend the edge without losing any speed. Ware is the type of guy offenses game plan against when they throw the football.
LB Ernie Sims, Detroit Lions
Rod Marinelli took over a mess in Detroit one year ago. The Lions not only lacked talent, but also the belief in themselves. One of Marinelli's first moves made was drafting Sims in the first round of last year's draft. An explosive, nasty weakside linebacker in Detroit's Cover 2 scheme, Sims is emerging as the next
Derrick Brooks
. Much like Brooks, Sims is a natural playmaker who not only strives to be great, but has the competitiveness and leadership qualities to change the attitude in Detroit. This is a giant endeavor and Sims certainly will not be able to do it alone, but he is doing everything possible to get the job done.