Thursday, May 26, 2005
'Roy Williams Rule' passes as June 1st Nears
Filed under:
Yesterday the 'Roy Williams Rule' officially passed at the annual Owners Meeting in Washington DC. The rule bans tackling by way of yanking the shoulder pads down from behind, a tactic Roy Williams used ad nauseum last year. The motion passed by a vote of 27-5, Dallas being one of the five teams that voted against. If a player decides to try it next season, the defense will be assessed a 15-yard unsportsmanlike conduct penalty and possible fines will be considered after game tape is studied. Roy was obviously not happy with the ruling.
"They're trying to make it an offensive game," Williams said. "We should just let them score touchdowns."

"It's something I'll have to think about," Williams said of the ban. "The league's touchy-touchy. They're taking instincts out of the game."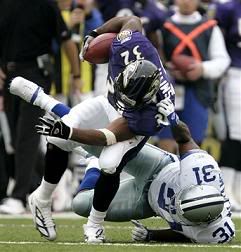 Another one bites the dustThis ruling comes on the heels of last off-season's wide receiver contact rule, which was put into action after the Patriots manhandled, pushed and shoved Colts receivers in the 2003 playoffs on their way to their second Super Bowl victory in three years. The new horse-collar rule doesn't pertain to running backs hitting holes at the line of scrimmage or quarterbacks being hit in the backfield.
Is the NFL becoming too nit-picky with its rulings these days? For one, I will never agree with the 'no contact past 5 yards' rule: I think it is too restrictive and I think it doesn't allow enough to transpire in the secondary. Just take a look a few of the judgment calls NFL officials are forced to make:
Actions that constitute defensive pass interference include but are not limited to:

(b) Playing through the back of a receiver in an attempt to make a play on the ball.

(d) Extending an arm across the body of a receiver thus restricting his ability to catch a pass, regardless of whether the defender is playing the ball.


Talk about loose interpretation. For every scenario I can think of that involves one of those penalties I can think of two that shouldn't draw a pass interference call. 'Extending an arm across the body' can be seen a million different ways by each official. If I was making the rules, I would make it so that as long as a defensive back was
going for the ball
, almost anything is legal back there. There are some obvious exceptions to this rule of course (the calls in that Pats-Colts game would have been made), but for the most part, officials are looking too hard for ticky-tack fouls in the defensive backfield when they should be paying more attention elsewhere. This also increased the frequency of phantom pass interference calls, which played huge parts in several games. I can remember there were a few games won and lost because of idiotic calls, merely because the refs were looking way too hard for any contact at all. The Broncos-Raiders game in the snow is one that comes to mind. But back to Roy Williams' point: I think he's absolutely correct in that the NFL is removing the secondary's ability to play their positions.
But… and this is a big but… the NFL has it right with this new 'Roy Williams rule.' As much as I like seeing Roy do what he does back there, is it simply too dangerous a tackle to have become a style. I can see young DB's everywhere coming up and wanting to be like Roy, attempt a horse-collar tackle, do it incorrectly and end somebody's season. Roy has been doing this tackle since his high school days and he still injures people. The horse-collar tackle is not necessarily a tackle guys use when they have been beaten: understand that. It is a common misconception that Roy gets beat all the time and has to compensate by grabbing whatever he can, i.e. the back of the shoulder pad. He does not have blazing speed, but the horse-collar tackle has more to do with convenience than anything. Why chase down TO (which he could have done at that point in time) when you can just yank him down from behind and save a couple yards? Hey, it wasn't illegal… right Ty Law?
In other news, the Cowboys signed UDFA rookie DT
Chris Van Hoy
yesterday. Van Hoy weighs in at a hefty 307 pounds, and a 6-4 he adds size to the remade defensive tackle position. Adam Sandler's new movie 'The Longest Yard' comes out tomorrow as well, and none other than Michael Irvin plays a supporting role in the movie. He wears his #88 and I think I'll go check it out just to see Michael catch a few passes. Hey, gotta re-live the glory days somehow, right?
Lastly, the Cowboys' veteran min-camp begins tomorrow and runs through the weekend. Look for news on the battle for the FS job, how Bledsoe is looking and how the fight for the RT spot between Torrin Tucker, Rob Pettiti and Kurt Vollers is shaping up. It should be a very interesting camp since a lot of these guys may be fighting for their jobs before the June 1st cuts, which are now only 5 days away.
http://cowboys.mostvaluablenetwork.com/
#Bootz2A..

Football Style

1. Redskins - Check

2. Dolphins - Check

3. Arizona -