Preacher From The Black Lagoon
| | |
| --- | --- |
| Joined: | Apr 2004 |
| Location: | State of Grace |
| Posts: | 27,478 |
Roy WIlliams Saftey NEt
---
IF this is a repost, my apologies. But I haven't seen it and thought it was nice to see something positive.

Roy Williams Set To Launch Foundation
The Roy Williams Safety Net Foundation aimed to help single mother households

DallasCowboys.com
July 27, 2004, 5:00 p.m. (CDT)




IRVING, Texas - Today, Cowboys All-Pro Safety, Roy Williams (#31) announced the launch of The Roy Williams Safety Net Foundation aimed to help single mother households in the Dallas area.

The purpose of The Roy Williams Safety Net Foundation will be to ensure that single mothers raising children in the Dallas community are provided support, guidance and assistance in an effort to enhance their quality of life.

"The mission of The Roy Williams Safety Net Foundation is to enhance the quality of life of low-income single mother households in the Dallas area," said Roy Williams. "My sister, Alecia, is a single mother raising my nephew - they have been my inspiration in starting the foundation to help this group of challenged women. I've seen first-hand the many challenges she and other women like her with children face on a daily basis. I want to do what I can to provide a safety net to help catch those families who are struggling."

According to the Center for Public Policy Priorities, the city of Dallas has the largest percentage of single mother households in the state of Texas at 29%. In its inaugural year, five to seven families from the targeted population will be selected to participate in the programs and activities outlined by the foundation. Selected families will undergo a thorough interview process which will be used to evaluate their willingness to fully participate in all programs and activities. A number of selected low-income children being raised in single parent households will also benefit from the foundation programs.

"Our vision is to provide the necessary assistance, resources and support needed to make a lasting impact in the lives of single mother households," said foundation Executive Director, C. Don Bradley. "The Roy Williams Safety Net Foundation will partner with community leaders and organizations in the Dallas area who are passionate about making a difference, and through sponsorship, philanthropy, and charitable giving, the foundation hopes to become one of the marquee support organizations for single mother households in the Dallas area."

The Board of Directors for The Roy Williams Safety Net Foundation is Mike King-President & CEO of ChildCareGroup; Steve Moss-President of Holden and Moss Certified Public Accountants; Mike Ornstein-President of CWS Sports; Steve Owens-President of Owens & Powell Associates and former Heisman Trophy Winner (1969) from University of Oklahoma; Emily Robbins-Director of Community Relations, Dallas Cowboys Football Club; Sandy Sandoval-EA Sports; Toye Wigley-Independent Consultant. Deborah Williams and Alecia Williams will serve as President and Vice President of the Board of Directors, respectively.

For more information, write to The Roy Williams Safety Net Foundation, 3818 Cedar Springs, Suite 101-20, Dallas, Texas 75129-4136 or contact Don Bradley, Executive Director, at 405-819-5904

The Roy Williams Safety Net Foundation - Programs

Initially there will be four specific programs designed help the selected families and other children from low-income singe parent households.


The Commitment to Excellence Program (CTE) is designed to enhance the educational opportunities of selected single mothers. In an effort to provide opportunities to achieve higher education, the foundation will partner with local community colleges, trade schools, and vo-techs to offer scholarship assistance to single mothers who seek to further their education.
The Health Net Program. For many low-income single mothers, providing adequate healthcare for their children is a pressing use. Through the Health Net Program, the foundation will partner with local health care agencies, clinics and hospitals to provide a Health Net Awareness Fair. The day-long program will provide health education and screening for HIV/Aids prevention, Sickle Cell, heart disease, diabetes and cancer prevention. In addition, free immunizations for low-income children residing in single mother households will be provided. The Health Net Fair will be open to the public. The goal is to attract more than 250 low income single parents and children to the event.
The Youth "A"ll Pro Club which is designed to promote academic excellence for low-income children of single mother households. The foundation will work with local middle schools and high schools administrators in the Dallas area to select 10 youth with above, average and below academic records. Club members will strive for academic excellence and improvement and will be evaluated after each grading period. Club member will be required to participate in a education programs throughout the year including SAT and ACT preparation, tutoring and mentorship programs, a job shadowing program and community service activities. Awards for the Clubs will be a dinner outing with Roy Williams and the opportunity to attend Dallas Cowboys football games based upon achieving individual goals.
The Saving for the Big Game is designed to assist select families in financial planning for the future. Families will be required to participate in credit smart programs, financial planning seminars and future investment workshops.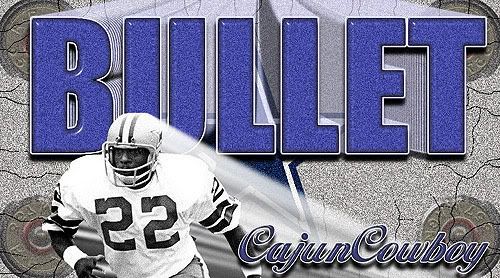 "Those who would deny freedom to others deserve it not for themselves..."-Abraham Lincoln