Supplemental draft preview: Some talent, lots of questions
July 14, 2010
By Rob Rang
NFLDraftScout.com
Tell Rob your opinion!
http://www.cbssports.com/nfl/draft/s...s-of-questions
The 2010 NFL supplemental draft, a final chance for teams to add young talent before the start of training camp, is Thursday.
Four players are eligible -- running backs Harvey Unga (BYU), Vanness Emokpae (Truman State) and Quentin Castille (Northwestern State) and defensive tackle Joshua Price-Brent (Illinois).
Each player possesses enough size and athleticism to find a niche in the NFL but only Unga and Brent-Price are expected to actually be drafted Thursday. Should a player go undrafted, he is designated by the NFL as an unrestricted free agent and is eligible to sign with any club.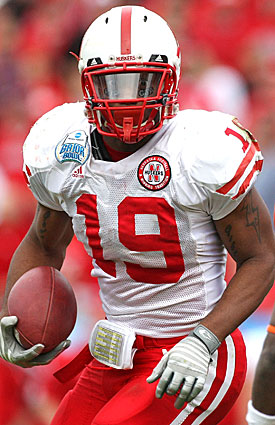 Quentin Castille looked like a future Huskers star before being dismissed from the team. (Getty Images)
Should your favorite team be interested in these players? Read these breakdowns, including thoughts from a respected veteran scout and decide for yourself:
(Players are listed alphabetically)
RB Quentin Castille, Northwestern State
A talented back originally signed by Nebraska out of high school, Castille appeared well on his way to being a featured player with the Cornhuskers. He rushed for 810 yards and 10 touchdowns as part of a three-man rotation in his first two seasons, including a career-high 125 yards (in what turned out to be his final game with Nebraska) against Clemson in a 2009 Gator Bowl victory.
Dismissed from the team for an undisclosed violation of team rules, Castille signed with Northwestern State, finishing third on the team with 349 rushing yards and a touchdown. Castille, 6-feet-1, 235, has above-average speed for his size but only marginal vision and balance. Many scouts believe his best chance at making an NFL roster would be to switch to fullback, though Castille needs work as a blocker.
Scout's take: Some talent there, but he's a bad guy. He could offer to pay for the plane ticket here and I still wouldn't even offer him a tryout.
RB Vanness Emokpae, Truman State
Listed by the school at 6-1, 240 pounds, Emokpae has seen time at every skill position on offense -- including as a Wildcat quarterback and kick returner in 2009 and as a punter in 2007. He was listed by the Bulldogs as a wide receiver in 2009, though he led the team in rushing attempts.
Emokpae enjoyed his best season in 2009, leading the team in rushing yards (524), rushing touchdowns (five), receptions (26), receiving yards (365) and receiving touchdowns (four). He missed all but the first game in 2008 with a knee injury and, having already graduated, simply is choosing to make himself eligible for the NFL rather than return to Truman State for his fifth season.
Scout's take: He's a pretty good athlete, but is one of those without a real position. I could see some club signing him after the draft.
DT Joshua Price-Brent, Illinois
At 6-2 and 321 pounds, Price-Brent has the frame scouts are looking for in a classic run stuffer. Price-Brent started all 12 games last season and posted 29 tackles, seven tackles for loss, three sacks and three forced fumbles. As he demonstrated during his July 7 workout on the Illinois campus, Price-Brent lacks the upper-body strength to hold up, only posting 22 repetitions of 225 pounds -- less than any defensive tackle weighing at least 295 pounds invited to the 2010 combine. That low number will turn off some teams, especially those utilizing a base 3-4 alignment. Price-Brent doesn't yet have the power to hold up at nose guard. He could contribute earlier if asked to remain inside in a traditional 4-3 defense, as he was featured in his 20 career starts with Illinois. However, with only five career sacks, he won't contribute much as a pass rusher. Price-Brent applied for the supplemental draft after being ruled academically ineligible for the 2010 season. He served 30 days in jail in 2009 for a DUI.
Related links
Franchuk: Unga's workout might raise profile
Rang: Emokpae video | Unga is a legit back
Scout's take: He has talent. There is no questioning that, but can you keep him hungry enough to ever reach his full potential? Someone will draft him late that thinks their team can.
RB Harvey Unga, BYU
The Cougars' career leader with 3,455 rushing yards and a three-time All-Mountain West Conference honoree, Unga was released from his scholarship after volunteering that he had broken the strict BYU Honor Code. The 6-foot, 244-pounder is powerful with natural running skills. He has good vision, the lateral agility to sidestep tackles and the leg drive to churn out tough yards in short-yardage situations. But as he demonstrated at his July 8 Pro Day, he has only marginal straight-line speed (4.63-4.73 in the 40). He has the soft hands to contribute as a third-down receiver, but despite good size and experience in a pro-style offense, Unga needs work as a pass blocker. He has also struggled with durability. Unga missed the 2006 season with a hip injury and has struggled with deep muscle bruises and ankle injuries.
Scout's take: Classic short-yardage runner that has soft hands. But he's not nearly as effective as a blocker as you would think for his size and experience and even more of a concern, he's pretty beaten up physically.
Since its inception in 1977, a total of 39 players have been selected via the supplemental draft. Among the most notable selections were quarterback Bernie Kosar (Cleveland, 1985), wide receiver Cris Carter (Philadelphia, 1987) and linebacker Brian Bosworth (Seattle, 1987).
The supplemental draft was originally created for players who had lost their eligibility between the primary NFL Draft in April and the beginning of the next season. Many "special case" players had lost their eligibility due to academics or legal issues.
Unlike the televised April draft, the supplemental is carried out via e-mail among teams. The teams, slotted into three groups based on their won/loss percentage the previous year, contact the league with a list of the players they would draft and the round in which they would take them. Any team that uses a supplemental draft pick would then lose the corresponding selection in the next year's draft.
The Rams, who picked first overall in April, also have priority position in every round of the supplemental draft.
Recent drafts have produced solid players.
The Washington Redskins selected former Kentucky star defensive end Jeremy Jarmon in the third round last year. Jarmon played in 11 games for the Redskins, starting one. He finished his rookie season with eight tackles, including six solo stops. His forced fumble against Tampa Bay running back Clifton Smith with only 48 seconds left gave the Redskins their second victory of the season.
The supplemental draft was canceled in 2008 due to a lack of player eligibility, but 10 players applied for special eligibility in 2007. Of them, two were selected. San Diego drafted former Georgia cornerback Paul Oliver in the fourth round, and Baltimore selected Maryland offensive tackle Jared Gaither in the fifth round.