DT Austin, QB Devlin impress at Shrine practice
By Chad Reuter
NFLDraftScout.com Senior Analyst
Jan. 18, 2011Tell Chad your opinion!
ORLANDO -- ,,,,,,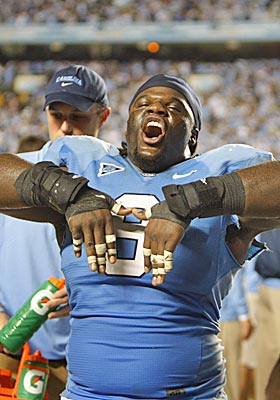 Several prospects shined Tuesday, and a few haven't seen the light of day in months.
click link here
North Carolina defensive tackle Marvin Austin, who began the 2010 season as NFLDraftScout.com's No. 2 ranked prospect, started off strong in one-on-one drills. He flashed quick hands and feet to bull-rush or run around mid-tier prospects such as Missouri State guard David Arkin.
Marvin Austin flashes quick hands and feet, but scouts might want to see more to consider him a top-50 prospect. (US Presswire)
Scouts are careful not to oversell the value of one-on-one drills, as defensive linemen such as Austin, University of South Florida's Terrell McClain, Penn State's Ollie Ogbu and Richmond's Martin Parker have an unrealistic amount of room with which to work in the drills. The quickness of Austin, McClain and Parker was evident. At the NFL level, most blocking schemes dictate offensive guards have blocking help from the center and even from tackles at times.
Arkin returned the favor to Austin during team drills, standing him straight up off the snap on multiple occasions. Austin did stand his ground and move down the line while engaged against the run during live scrimmage, once pushing Purdue tight end Kyle Adams aside to swallow the back coming into the hole. Though it was a solid practice, scouts might want to see more to consider Austin a top-50 prospect, especially considering he was so highly touted as a prep and expectations were through the roof entering the season.
Delaware quarterback Pat Devlin garnered preseason attention for both his talent and the natural comparison to former Blue Hen and current Ravens' Pro Bowl starter Joe Flacco. He was easily the most impressive passer Tuesday. His footwork and posture in the pocket was solid and he consistently delivered tight spirals. He was generally accurate, throwing a bit ahead of or behind his target, which is largely expected in an all-star setting, as quarterbacks and receivers lack timing based on unfamiliarity. Fellow signal-callers Tyrod Taylor (Virginia Tech) and Ricky Dobbs (Navy) had nondescript performances, generally connecting on short throws but failing to make any exceptional throws.
Devlin, the former Penn State quarterback, had one throw he wanted to have back. After surveying the field for a deep option, he checked down to a back in the flat -- but failed to account for Oklahoma safety Jonathan Nelson, who stepped in front of teammate and cornerback Justin Rogers to pick off the pass.
Rogers had the best day among the defensive backs. He was more physical than is typically expected of a 5-10, 183-pound corner and broke quickly on the ball in team and individual drills.