Messages

40,883
Reaction score

19,367
However, somewhat lost to history is the 1989 NFL Draft, the one before the most memorable and lopsided trade since the Louisiana Purchase.
This was the first under Jimmy Johnson, less than two months after Jerry Jones purchased the team. The upheaval for the Cowboys and the NFL during the seven weeks between the sale in February and the draft that April is simply mind boggling. Jones buys the Cowboys, fires Tom Landry, hires Johnson, Pete Rozelle announces he will soon step down as league commissioner after 29-plus years, Ring of Honor and Hall of Famer Randy White retires after 14 seasons with Dallas, and Cowboys President Tex Schramm, either the first or second most powerful man in professional football for 30 years, resigns.
Whew. Quick breather.
In the midst of that whirlwind was the everyday storyline of the No. 1 overall pick. Having finished 3-13 the season before, the Cowboys were in possession of that first selection, and while they could have just come out and said what everyone sort of, kind of, knew anyhow, that they would select UCLA quarterback Troy Aikman, Johnson decided against that mindset...
https://www.dallascowboys.com/news/how-1989-draft-shaped-the-cowboys-dynasty
Jeff Sullivan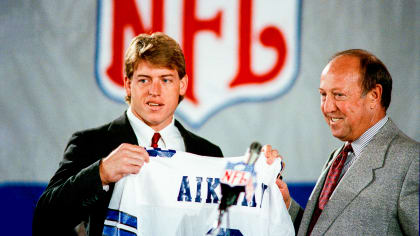 AP Photo/Mark Lennihan